The Loyalty Tree allows players to devote their loyalty to streamers and in return improve their heroes in combat. Players can upgrade the faces of the streamers which gives benefits and stat-attributes to all the streamer's appearances and skins. As a result, heroes who carry the skins of the streamer are given a range of advantages. Some of these benefits include: added power, damage for and against certain factions and classes and specific streamers.
To unlock skin attributes, players must devote their unquestioned loyalty to streamers by collecting their skins. Players will need to obtain the same skin repeatedly to unlock all five attributes. It costs 250K Gems to change the characteristics.
Unlocking and Upgrading
Level
Cost
Unlocks
Available at

garrison level

Lv. 1 (build)
35K
• Loyalty Tree
Lv. 14
Lv. 2
45K
• Pet guardian talent
Lv. 15
Lv. 3 (max)
70K
• Duplicate power
Lv. 17
Attributes
| Attribute | Effect |
| --- | --- |
| The Silver Fist | • 0.5% power boost for each duplicate (caps at 100%) |
| Class | • 50% power increase for a specific class |
| Faction | • 50% power increase for a specific faction |
| Anti-Class | • 50% power increase against a specific class |
| Anti-Faction | • 50% power increase against a specific faction |
| Anti-Streamer | • 50% power increase against a specific streamer |
The Silver Fist

The Silver Fist is a stat-attribute buff that gives a 0.5% increase in power for every duplicate skin, which the player has collected. This boost maxes out at 200 duplicates and a 100% power boost. The sole act of collecting skins therefore becomes a rewarding experiencing that improves heroes in combat. However, not everyone is given the benefits of the silver fist; it is only those heroes who carry the skins of the selected streamer in the Loyalty Tree. Players will need to collect the same skin repeatedly and in massive quantities before earning significant benefits.
Pet Guardians
A Pet guardian is unlocked when the loyalty tree reaches level 2. The active pet guardian is determined from the player's captured hatchery of the respective faction in Geopet GO. When the pet guardian is active, this makes the auto-skill (first ability of the pet) active on all heroes with the streamer's face or other skins.
In the Loyalty Tree, players can give buffs to 6 different streamers, each corresponding to a different faction, which directly determines the faction of the pet guardian.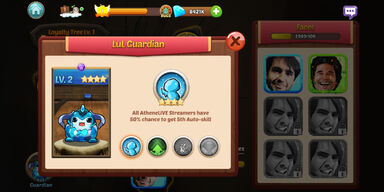 The factions are unlocked in this specific order:
LuL (unlocked after building is built)
SMOrc (requires 2500 default faces)
PogChamp (requires 10K default faces)
TriHard (requires 50K default faces)
Kappa (requires 100K default faces)
KappaPride (requires 200K default faces)
Community content is available under
CC-BY-SA
unless otherwise noted.