Loot Cards are in-game collectibles that usually represent in-game loot or discount codes which can be claimed for real world goods. Loot Cards can be obtained from various areas of the game in the form of loot drops. Inside of the My Collection building, players can view, inspect, and claim their Loot Cards. Players also have the option to sell claimed, and unclaimed Loot Cards in the Auction House for Crypton.
Common Loot Cards
| Loot Card | Description | Instructions |
| --- | --- | --- |
| | Contains a Steam key for the video game Death Train | Obtained after your first battle in the Campaign Tower |
| | Contains 1M | Obtained from tier 1 subscription to AtheneLive on Twitch |
| | Contains 2M and 1000 | Obtained from tier 3 subscription to AtheneLive on Twitch |
Rarities
Loot Cards can come in one of four different rarities, where the higher the rarity, the more valuable the item in question will be.
| | | | |
| --- | --- | --- | --- |
| | | | |
| Rare | Epic | Legendary | Shiny Legendary |
Companies
Companies that are partnered with Clash of Streamers can provide free or discounted products as Loot Cards. Players who are lucky enough to acquire these Loot Cards can claim them for various real world goods.
The companies and products that are currently known to be parterned with Clash of Streamers are:
Achievements
In the Achievements building, players will also find several different achievements which can be collected by owning claimed Loot Cards.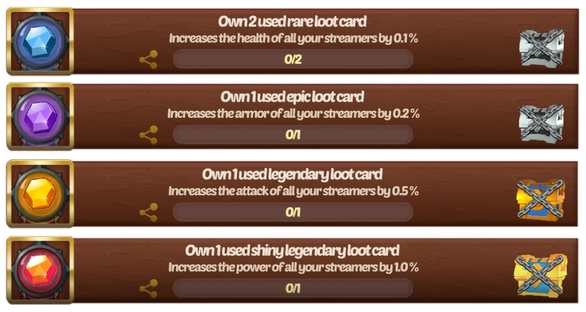 Community content is available under
CC-BY-SA
unless otherwise noted.