The Gem Mine is a place where Gems are dug up from deep depths of the rich earth. You can venture into the mine and invite your Facebook friends on expeditions to uncover forgotten secrets that are buried within the ancient mine.
The mine itself contains a gemstone that you can tap to collect Gems. The Gems are generated consistently over time. You can claim your Gems whenever you want. It is also possible to increase the Gem Mine's storage and rate of production by either upgrading the building or buying a subscription in the store, which increases its capacity and output by 100%. Moreover, you can also, if you're lucky, receive a multiplier that amplifies the number of Gems you receive. Multipliers can vary in effect, ranging from 2x to 100x.
Unlocking and Upgrading
Level
Cost
Unlocks
Available at

garrison level

Lv. 1 (build)
5K
• Gem Mine
Lv. 2
Lv. 2
10K
• Rare expeditions

• 2x multiplier

Lv. 4
Lv. 3
20K
• Epic expeditions

• 5x multiplier

Lv. 8
Lv. 4
30K
• Legendary expeditions

• 25x multiplier

Lv. 10
Lv. 5
40K
• Gem Event

• 50x multiplier

Lv. 14
Lv. 6 (max)
70K
• Connect to FB

• No facebook benefits

• 100x multiplier

Lv. 16
Gem Mine Capacity
As the Gem Mine fills up with Gems over time, different icons will be displayed above depending on its current capacity.
| | | | | |
| --- | --- | --- | --- | --- |
| | | | | |
| Stage 1 | Stage 2 | Stage 3 | Stage 4 | Stage 5 |
Expeditions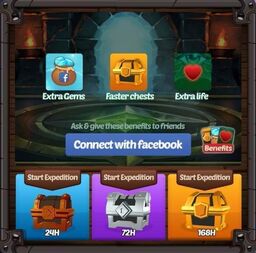 There are three types of expeditions:
Rare (24 hours)
Epic (72 hours)
Legendary (168 hours)
The higher the rarity of the expedition the better loot players will receive. With these expeditions players can invite up to 5 friends to venture deeper into the mine. Inviting friends reduces the duration of expeditions by 50% and every expedition gives worthwhile rewards.
Community content is available under
CC-BY-SA
unless otherwise noted.