The Community Hub is the community's core and helps promotes community-related activities. As a common ground for players, the Community Hub is often used to watch livestreams and interact with players: either by chatting or by challenging them to duels. The hub includes a slot machine in which players can win various prizes.
Unlocking and Upgrading
Level
Cost
Unlocks
Available at

garrison level

Lv. 1 (build)
17K
• Community Hub
Lv. 6
Lv. 2
35K
• +1 daily free spin

• Madness spin

• Claim streamer

Lv. 9
Lv. 3
40K
• +1 daily free spin

• Insanity spin

• Community replays

• Clips

Lv. 12
Lv. 4 (max)
50K
• +1 daily free spin

• Ascendance spin

• Auto-spin

• Upgraded rewards

Lv. 17
Join Community
Livestreamers from Twitch.tv, who use GamingForGood.net as their donation platform, have communities in the game that players can join. The community is the foundation of a player's gameplay and might influence their choice of streamers. Once a player chooses a community, the Community Hub will take the name and appearance of the streamer that the community is dedicated to. The default page will also change to feature the streamer's livestream and Twitch chat.
Leaderboard and Community Overview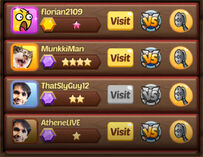 Inside of every community there is a leaderboard that displays the best players in the community. Players are ranked based on the power of their streamers. It is considered a great honor to be on the leaderboard which highlights the top 1000 players from the community. Players can browse and interact with the players in various ways: watch their replays, inspect them, check out their stream or duel them in combat.
Slot Machine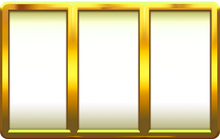 The Community Hub includes a slot machine where players can use tokens or Gems to spin and win prizes. The mechanical reel of the slot machine is decorated with faces from streamers. Players can win some of the most valuable prizes in the game from this slot machine. The slot machine's default mode requires Community Chips to spin, but there are also four other modes that require different exclusive tokens to spin which can be found below.
| Icon | Chip |
| --- | --- |
| | Community Chip |
| | Mega Chip |
| | Madness Chip |
| | Insanity Chip |
| | Ascendance Chip |
Visiting
Players can also visit other players in the community by tapping on the visit button. When visiting, players cannot perform any actions in another player's map, but simply navigate around and see everything that the other player would see in their game. Additionally, players can choose to gift Crypton or challenge the player to reach certain goals in a specific building. Challenges are available in almost every building in the game. If the player completes the challenge within the given time frame, they will be rewarded with the Crypton that was originally bet.
Community content is available under
CC-BY-SA
unless otherwise noted.