Clash of Streamers has it's own chat system. It has many options and allows users to create their own channel in which they can text or voice chat. The channel can either be private or open for everyone. They can also connect to their community's twitch chat if they want. 
Some buildings also have their own unique channel, such as the Poker, Blackjack and Roulette where you can chat with other players who are also playing those minigames. 
Chat Emotes
In the chat, players can send various emotes from the game. These include different pets, default faces, and other random in-game icons. Players don't immediately have access to all of the available emotes after unlocking the chat. Emotes are gradually unlocked throughout playing Clash of Streamers. Requirements for unlocking different emotes range from collecting pets, completing challenges, reaching prestige levels, completing events, and many more.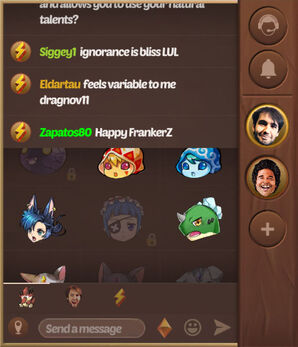 Community content is available under
CC-BY-SA
unless otherwise noted.