Best Game (or the central garrison) is the building that players can visit to upgrade or construct other buildings and unlock new features and benefits in the game. 
Players can upgrade many buildings multiple times directly from the garrison which amplifies or unlocks certain effects and features. For example, every time players improve the Arena, they unlock additional hero slots that allow them to put another streamer in combat. After upgrading each building to the maximum level, the garrison will change to an overview of your daily quests which rewards chests containing valuable goods when completed. 
Upgrades
When players upgrade the garrison, they unlock new buildings and functionalities. Below is a list of buildings that become available when the garrison is upgraded. The garrison can be upgraded 18 times, and every upgrade unlocks a new range of features.
Daily Quests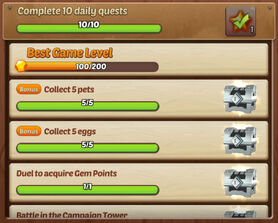 Best Game contains a tab for daily quests. Daily quests, or dailies, are repeatable quests that can be completed once a day. Upon completion, players earn free chests.
Featured Content
The garrison will consistently highlight and feature various streamers, or other Clash of Streamers content in the community to players every day. The garrison can highlight a streamer who, regardless of popularity, can be given an opportunity to showcase his or her broadcasting talents to a broader audience. The garrison can also highlight other content related to Clash of Streamers, like YouTube videos, regardless of how big or small it may be.
In essence, the Featured Content area is a place where people who are active in the Clash of Streamers community, are rewarded and shown appreciation.
Gems for Charity
Even though most players are busy with the war effort, they should not forget to give back to the world. Players can do a good deed and donate their gems to charity. This completes a daily quest that not only rewards the player but also triggers a charitable giveaway. Athene will do a giveaway of all donated gems, once it reaches an absolute limit, live on Twitch.tv in exchange for charitable donations. 
Community content is available under
CC-BY-SA
unless otherwise noted.