The Avatar is the player's in-game representation, and will appear next to the player's name in all areas of the game. The avatar is a facial icon that represents a particular livestreamer. Players can either select their own face, or the game will select the player's strongest hero as their avatar.
However, the avatar is not just the an icon, it is also a menu that players can open to see information about the game. Players can see their account progression through their account power graph, as well as an overview of patch notes, and probability odds pertaining to different slot machines and multipliers.
Account Power Graph
Account power is a representation of a player's total progression in Clash of Streamers. In the Avatar, players can find their account power graph which displays a visual representation of account power over a certain period of time. To give players a fully accurate representation of account power throughout history, there are several different time periods which can be visualized. Players can switch between the following time periods:
24 hours
1 week
1 month
lifetime
Account Trust

Account Trust is a system that encourages people to play by the rules. There are two components to this system: Trust Level and Trust Score. Both are displayed in the Avatar.
Players acquire trust levels by either connecting to twitch or by acquiring VIP Levels, which is performed through in-app purchases. Players can, on the other hand, increase their trust sco
re by accumulating account power, which is gathered by upgrading or acquiring stronger heroes. Additionally, players who exploit or cheat are assigned to a lower trust level, which in turn revokes their multiplayer functionality and gives them bad loot.
Every player starts off at a rare trust level, which provides the worst loot in the game, but they can quickly advance their position by connecting to Twitch or by acquiring VIP levels.
Trust Level
Icon
Trust Level
Benefits

Rare Trust
• Unlocked when you start the game

• Diminishes loot and odds

Epic Trust
• Unlocked when you connect with Twitch

• Normal loot and odds

• Multiplayer functionality enabled

Legendary Trust
• Unlocked if you reach VIP 1

• Requires connection to Twitch

• Normal loot and odds

• Multiplayer functionality enabled

Shiny Legendary Trust
• Unlocked if you reach VIP 2

• Accessible without connecting to twitch

• Normal loot and odds

• Multiplayer functionality enabled
Trust Score
Trust score is increased by accumulating account power, and account power is a measurement of your total power if you add all your heroes together.
Trust score is not as important as trust level, but it still has some benefits: it causes your upvotes and downvotes, and your swipes in the Hot Stories building carry more weight behind them, which in return enables you to steer you community in a certain direction as you have a bigger say in things.
Odds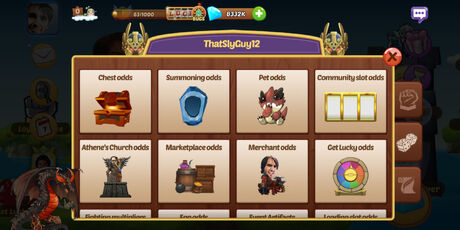 In the second tab of the Avatar, players can see the odds of certain things happening in the game. Each section shows all available possibilities regarding that specific category. These sections include:
Chest odds
Summoning odds
Pet odds
Community slot odds
Athene's Church odds
Marketplace odds
Merchant odds
Get Lucky odds
Fighting multipliers
Egg odds
Event Artifacts
Loading slot odds
Community content is available under
CC-BY-SA
unless otherwise noted.